Our Massage Services in Liverpool Street
A good Asian massage shouldn't be expensive or a hassle to book! This is why here at Asian Deluxe Massage we specialise in the complete experience. From start to finish you know you are booking with the best agency in Liverpool Street.
The sexiest masseuses for the hottest sessions
In Liverpool Street, we offer some of the most beautiful Asian ladies that are not only truly sexy but highly experienced massage experts. Each brings something unique to every massage that we offer. And remember each massage offers either a happy ending or full service to really bring out that sexual side!
What services can you book with us near Liverpool Street
Tantric Massage Liverpool Street is a very popular massage technique with us and our clients love the pleasure and fun that it provides as your body is stroked and teased to orgasm! This massage experience is the perfect way to enjoy a session filled with desire and excitement from the get-go. Read more about Tantric Massage on our service page.
Sensual Massage Liverpool Street is a relaxing massage session that oozes intimacy and allows to you gain a deep connection with the masseuse of your choice. Sensual massages are just like traditional massage that focuses on the relaxation side of things.
Nuru Massage Our Nuru massage uses a specialised gel that is prized in Japan to give you deep sensations from head to toe. The gel creates a naughty slip-and-slide experience that is unmatched by any other environment or gel to give you a unique experience from start to finish.
Prostate Massage in Liverpool Street with us is a truly orgasmic experience from start to finish as you are literally getting your G-Spot stimulated. The ultimate fun of your life that many clients are now warming up to.
Body to Body Massage is a type of massage that really invokes fun and relaxation and lets the masseuse explore your fully naked body with her body leading to experiences. This is the best of the full body massages and a favourite with us from people from all over London!
Erotic Massage – Erotic Massage is what makes adult massage so great. A brilliant massage technique that has been the cornerstone of adult massage for years now and a famous massage technique that can be enjoyed day or night.
Lingam Massage – A massage all about your penis! This different yet truly satisfying massage technique is unlike Tantric massages and dedicates a whole hour of fun to your manhood!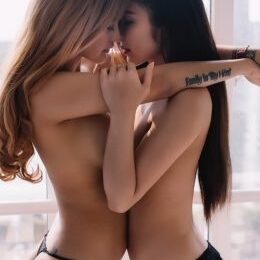 Four Hands Massage
4 Hands massage is avalaible with all of our massage services. Simply inquire with the reception team who will be more than happy to answer any qeustions you might have.
Incall and outcall
Incall or outcall that's your choice! We love to offer both as we know life is not always so simple and you can find yourself in many different situations. So what would be best for you and your circumstances?
Making a visit to our massage parlour for your session
Our massage parlour located near Liverpool street station is easily accessible day or night via tube, train or taxi and allows for a discreet encounter where you can meet your masseuse in comfort and confidentiality.
Let the masseuse visit you around Liverpool Street or Central London
Forget about travelling to a parlour for a passion-filled session and let the masseuse travel to you for a VIP experience like no other. The girls will arrive via taxi to your location this doesn't need to be in Liverpool Street exclusively it can be anywhere around there or in the Central London area. All you need to is open the door to the stunning masseuse and let the journey commence.
Making a booking with Deluxe Asian Massage
Even with the nature of our business our booking process is super simple and involves you making a quick phone call to our reception team. You can then book with the masseuse you wish to indulge with and an appointment will be made for you at a time that suits you it's as simple as that!